Facts about Ancient Egyptian Pharaohs
Here are some facts about the lives of the most important ancient Egyptian pharaohs.
Menes
Life
Menes lived during ancient Egypt's Early Dynastic Period, around 3000 BC.
He ruled over Egypt for more than 60 years.
Many Egyptologists believe that Menes was the same king as Narmer, another famous ruler.
Impact on Ancient Egypt
Menes is credited with uniting Upper and Lower Egypt and founding the First Dynasty.
Some historians believe that Menes introduced worshipping the gods and making sacrifices to ancient Egypt.
Menes may also have invented writing in ancient Egypt.
Akhenaten
Life
Akhenaten ruled during the 18th dynasty.
Many scholars believe that Akhenaten's wife was Nefertiti, who was famous for her beauty. Akhenaten and Nefertiti had six children.
Akhenaten likely had Marfan's Syndrome, a genetic disorder that can cause a short torso, an elongated neck, and poor muscle tone.
Impact on Ancient Egypt
Akhenaten ruled during a prosperous time in Egypt's history. Egypt was very wealthy and powerful before Akhenaten ruled, but this power declined during his time as pharaoh.
He promoted a monotheistic religion, which most Egyptians disagreed with.
Akhenaten was the first pharaoh to insist that depictions of himself in artwork be realistic.
Discoveries After Death
Archaeologists discovered Akhenaten's tomb in the Valley of the Kings in the late 19th century.
The tomb contained a sarcophagus, but there was no mummy inside. The mummy has never been discovered, and the tomb had been damaged by tomb robbers.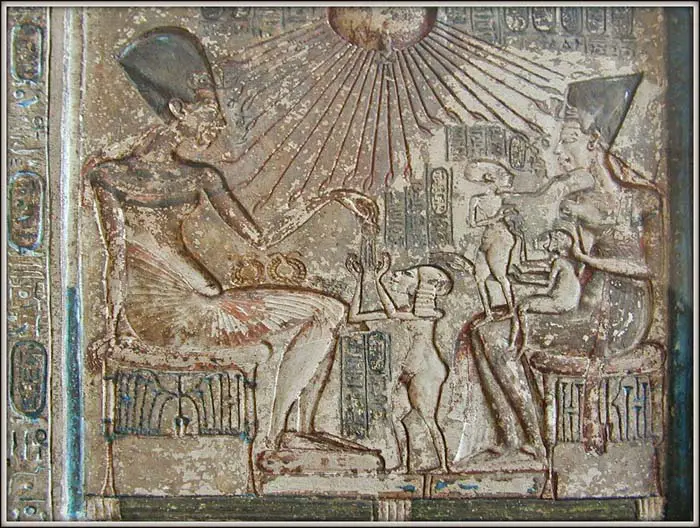 © Jean-Pierre Dalbéra - Depiction of Akhenaten and his family
Tutankhamun
Life
Tutankhamun is more commonly known as King Tut.
He was born around 1343 BC and is likely the son of Akhenaten.
He became the pharaoh when he was only nine years old and ruled between 1332 and 1323 BC.
King Tut was only 18 or 19 years old when he died.
Impact on Ancient Egypt
Because he was so young when he ruled, Tutankhamun didn't make a large impact on ancient Egypt.
There was some work on temples and shrines during his rule, but most were unfinished until other pharaohs were in power.
Discoveries After Death
There were no historical records of King Tut's burial site, but archaeologist Howard Carter spent years searching for his tomb.
In November 1922, Carter and his team discovered a sealed doorway that led to Tutankhamun's tomb. It was the first Egyptian royal burial to be completely intact when discovered by archaeologists.
King Tut was buried with a funerary mask, which is made of gold and includes glass, quartz, obsidian, and lapis lazuli. It is one of the most famous ancient Egyptian artifacts.
His tomb included more than 3,000 other items, and most were made of gold.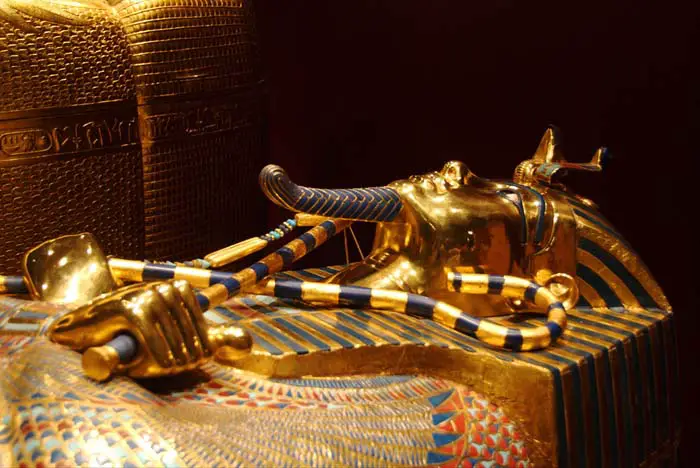 © Kačka a Ondra - Inner coffin of Tutankhamun
Thutmose II
Life
Thutmose II was the fourth pharaoh to rule during the 18th dynasty.
Scholars are unsure of how long he ruled for, but it was likely between three and 13 years.
His wife, Hatshepsut, was a very powerful figure in ancient Egypt. His son, Thutmose III, became one of ancient Egypt's greatest leaders.
Impact on Ancient Egypt
Hatshepsut has Thutmose II's name removed from many of the monuments he built, so historians are unsure of which monuments he is responsible for. His largest known monument is limestone gateway at Karnak.
Thutmose II's army led several influential campaigns against rebellions.
Discoveries After Death
Archaeologists never discovered a royal tomb or temple for Thutmose II's body, but his body was discovered in a royal cache at Deir el-Bahari.
In 1886, Gaston Maspero unwrapped Thutmose II's body after its discovery, and it had been damaged by tomb robbers.
He likely had a skin disease before his death, and his body was very thin and had little muscle. Scientists believe that he died of an illness that caused these symptoms.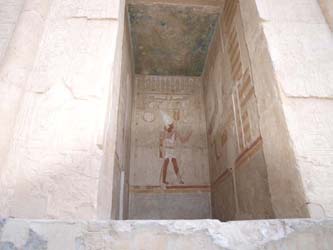 © isawnyu - Relief of Thutmose II
Hatshepsut
Life
Many historians believe Hatshepsut was the first woman of importance in history.
After Thutmose II died, his son, Thutmose III, inherited the throne. However, Thutmose III was too young to rule, so Hatshepsut ruled as regent for six years. Then, she officially declared herself the pharaoh.
Hatshepsut was the first female pharaoh, and she ruled from 1473 to 1458 BC. She wore the traditional clothing of male pharaohs and wore a fake beard, which was the custom for male pharaohs.
Hatshepsut's name translates to "Foremost of Noble Women".
Impact on Ancient Egypt
Scholars view Hatshepsut as one of Egypt's most accomplished pharaohs.
She finished the construction of the temple at Deir el-Bahri, which has artwork and hieroglyphics about her life.
She sent a trade mission to Punt, which brought back several myrrh trees that may have been the first trees to ever have been transplanted.
Discoveries After Death
Egyptologists didn't identify Hatshepsut's mummy until 2007. Researchers matched a tooth with a tooth socket in the mummy's skull in the Egyptian Museum in Cairo.
Researchers believe Hatshepsut was in her 50s when she died. She had several cavities as well as diabetes and bone cancer.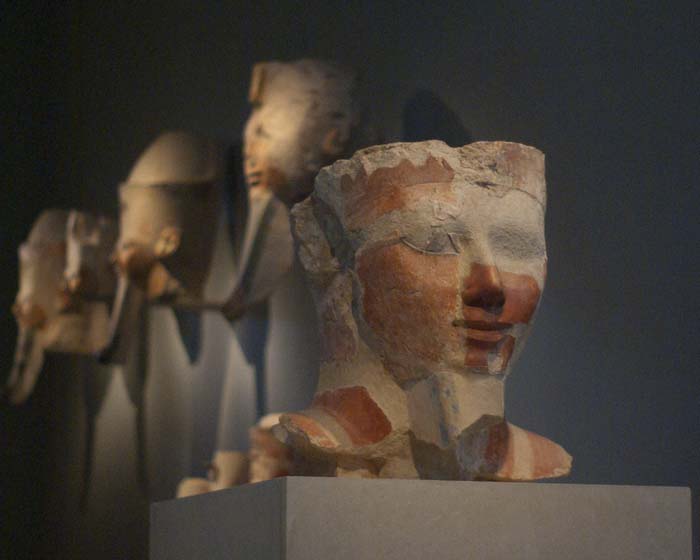 © Charles Hoffman - Head of Hatshepsut, Osiris Statue
Thutmose III
Life
Thutmose III was the son of Thutmose II and the sixth Egyptian pharaoh during the 18th dynasty.
He ruled after Hatshepsut, during the "golden age" of ancient Egypt.
While Hatshepsut ruled over Egypt, Thutmose III was a powerful military leader.
Thutmose III had nine children with multiple wives.
Impact on Ancient Egypt
Thutmose III led at least 16 military campaigns to many regions, including Palestine, Syria, and Mesopotamia. He captured about 350 cities during his time as pharaoh.
He also built many temples throughout Egypt that have artwork depicting his many successes.
Discoveries After Death
Victor Loret, and Egyptologist, and his team discovered Thutmose III's tomb, but it had already been damaged by tomb robbers.
Thutmose III's mummy was not inside his burial tomb. Archaeologists found his body at Deir el-Bahri. The Egyptian Museum is now in possession of the mummy, although it wasn't in good condition when it was found.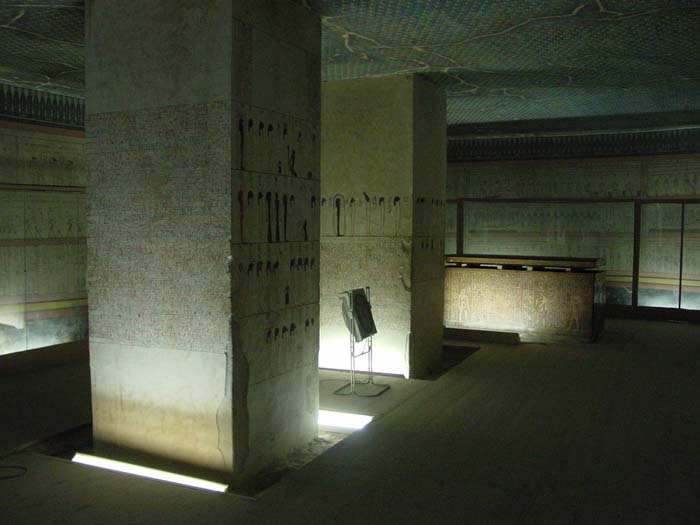 © Sebastian Niedlich - Interior of the tomb of Thutmose III
Ramses II
Life
Ramses II was the third pharaoh to rule in the 19th dynasty. He is one of ancient Egypt's most famous and influential pharaohs.
He ruled for about 66 years, from around 1279 BC to 1213 BC.
Throughout his life, he had many wives and fathered more than 100 children.
There were at least nine other pharaohs who were named after Ramses II.
Impact on Ancient Egypt
The ancient Egyptians built more monuments during Ramses II's rule than during any other pharaoh's rule. He is responsible for the Ramesseum, the Ramses II statue, and the Abu Simbel temples.
Egypt's military was very strong during Ramses II's rule, and he took back several territories that Egypt had previously lost. He had an army of about 100,000 men.
After Ramses II ruled for about 30 years, the ancient Egyptians celebrated the Sed festival, where the pharaoh turns into a god. After this festival, the Egyptians worshipped Ramses II as a god.
Discoveries After Death
Archaeologists discovered Ramses II's tomb in 1881. Today, his body is preserved in the Egyptian Museum in Cairo.
While studying Ramses II's body, researchers discovered that he sustained several wounds and bone fractures during battles.
He had several health problems during his later years. Researchers believe that he had arthritis and dental problems.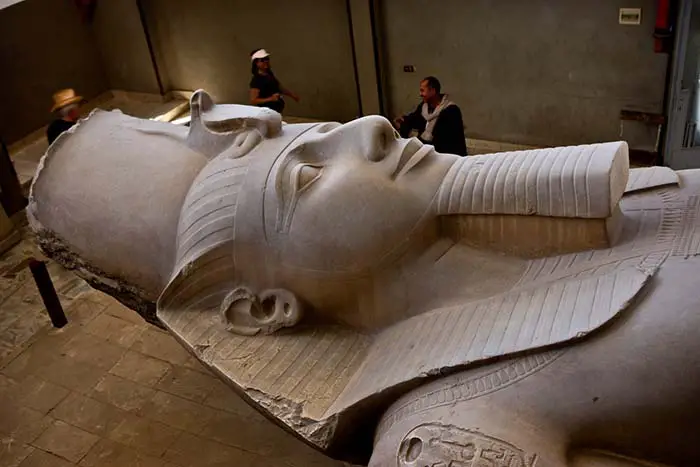 © cliff hellis - Statue of Ramses II
Cleopatra VII
Life
Cleopatra was the third child of King Ptolemy XII but was the oldest living child when Ptolemy died. Her family had ruled Egypt for more than 300 years.
She was born in 69 BC and became the co-ruler of Egypt with her brother in 51 BC. She was only 18 years old when she became the ruler of Egypt.
Cleopatra and her family had Greek roots, but she was a very popular leader among the Egyptians.
Impact on Ancient Egypt
Cleopatra was forced by law to co-rule with her brother, but she ignored this law for three years and removed his name from official documents. Her brother, his advisors, and court officials forced her to flee in 48 BC.
She formed an army and attempted to regain control of Egypt, and she formed an alliance with Julius Caesar.
When Cleopatra died, the Roman Emperors took complete control of Egypt.